Meet Dr. Ben Tapper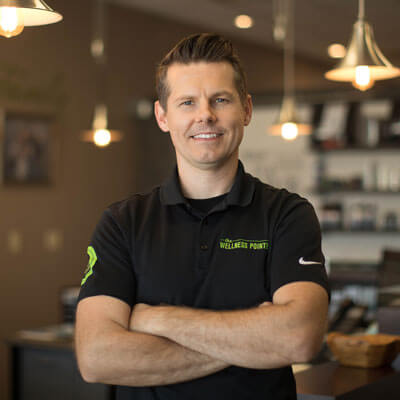 Growing up in a Chiropractic Family
With a father who was a chiropractor, the natural healing profession was always a part of Dr. Tapper's life. When he or a member of his family had a cold, slip and a fall or any other ailment, chiropractic was their go-to solution. They grew up on a farm with horses and land to roam. When it was time to decide on a career path, Dr. Tapper chose to attend business school.
During his freshman year, Dr. Tapper had a severe car accident. His injuries were serious, and the doctor told him that he would never be active or play sports again. "I became my diagnosis. I gained weight, felt depressed and didn't know what to do. My chiropractor put me on a plan and inspired me to live the chiropractic lifestyle again. I feel thankful for what I went through. I already believed in chiropractic. It wasn't until I had this experience that I understood what chiropractic could truly do for people."
Finding His Purpose
It was during his undergraduate years that Dr. Tapper's father gave him a book called It Works. The book was about tuning into the purpose that God has for you, discovering the unique desires in your heart and seeking them out. Intrigued, Dr. Tapper wrote down everything he wanted to do. He knew that his job working in a warehouse wasn't his path and decided to make a change.
Life is an Etch A Sketch. You can draw anything, shake it up and start all over. If there's a will to do something, there are a million ways to do it.
Dr. Tapper enrolled at Palmer College of Chiropractic in Davenport, Iowa. The many organizations he was involved with there include Diversified Club, Gonstead Club and Motion Palpation Club, giving him additional training in these methods. He graduated with a Doctor of Chiropractic in 2012, then joined his father in practice. A few months later, he came to the West Omaha community.
Over the years, Dr. Tapper has taken additional training and is certified in Activator® and Atlas Orthogonal. He has also completed all the courses to become a Certified Chiropractic Wellness Practitioner® (CCWP®).
EXPLORE CHIROPRACTIC »
Putting God and Family First
When it comes to his life outside of The Wellness Pointe, the Lord, his wife Kathy and his four children are his greatest joy. His children are Ophelia, Owen, Ozwin and Olsen. He loves seeing their unique personalities develop and their growth. When he has the time, he loves to read about the sciences, wellness and prevention. He also plays guitar and harmonica.
It might sound surprising, but Dr. Tapper is considered a professional-level foosball player and is a competitive bowler. He's played in a national tournament for foosball and state tournaments for bowling, which he has won scholarships for. He was president of the Bowling Club at Palmer and competed on a collegiate level.
We have same-day appointments available. Contact us today to schedule your visit with our in-network provider!
---
Dr. Ben Tapper | (402) 933-4463