Chiropractic Care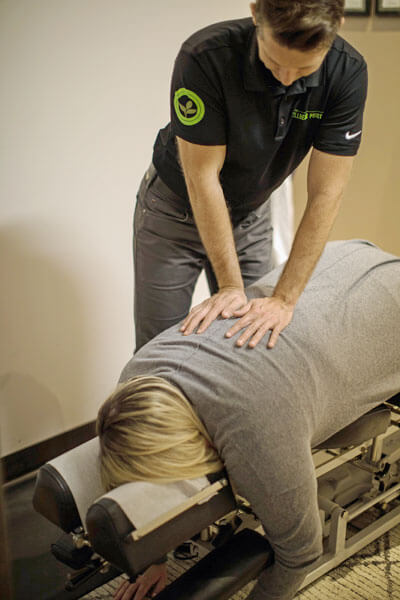 At The Wellness Pointe, our bottom line is all about improving your function. The way your body operates is about far more than how you're feeling. Our goal is to make you move better. Movement is directly correlated to your body's structure, and structure equals function. Therefore, if you're not moving well, you're not functioning well, either. We work to enhance your overall function and movement.
No Two Spines Are the Same
You're a unique person and require care that's customized to you. Dr. Tapper is proficient in several different techniques to ensure that you get what your body needs. These methods include Diversified, Thompson Drop and Activator®. He is certified proficient in Activator, which is an instrument-based method.
Whether a manual or instrument technique is used, Dr. Tapper is gentle and extremely specific in your care.
The many conditions people seek our help with include
Headaches
Neck pain
Whiplash injuries
Pregnancy-related concerns
Ear infections
Our Whiplash Protocol
We often see patients who have been in motor vehicle accidents. If you may have had whiplash, we have a specific protocol we use in your care. We'll test your range of motion to the exact degree and take a specific set of films to understand the nature of your injury. You'll receive a custom-fitted pillow from us to make sure you're getting the support you need. We may utilize electric muscle stimulation if you have spasm, pain, edema or hypertonicity.
Health-Related Products Available
There are several products you can purchase in our office, such as custom-fitted cervical pillows, essential oils, Biofreeze®, CBD topical pain cream and supplements. The supplements we carry include Omega-3, Vitamin D, probiotics and multivitamins.
Our Traction Table
Before you get adjusted, we'll have you lie on our comfortable intersegmental traction table. This table is designed to increase the blood circulation in your spine. It will assist with your mobility and make your adjustment easier. It takes just 10 minutes but can make a world of difference in your care.
Book Your Visit Today
We have same-day appointments available. Contact our team today to schedule your time with us and discover the benefits of chiropractic!
CONTACT US »
---
Chiropractic Care West Omaha | (402) 933-4463